Elmhurst, IL 60126
Phone: 312-399-2056
Fax: 630-279-0521
Email: ChicagolandEskieRescue@live.com
Aide in the rescue of any American Eskimo Dog in need.
Find permanent homes for every Eskie in our care. Not to place them with just every person who simply wants an American Eskimo Dog.
Provide breed specific and general education to current and potential owners.
Provide support to any owner for the entire life span of their Eskie.
Protect American Eskimo Dogs from abuse and cruelty.
Function as a responsible rescue organization that will provide safe shelter, health care, socialization and a new life with the proper placement into a respectable forever home.

<< go back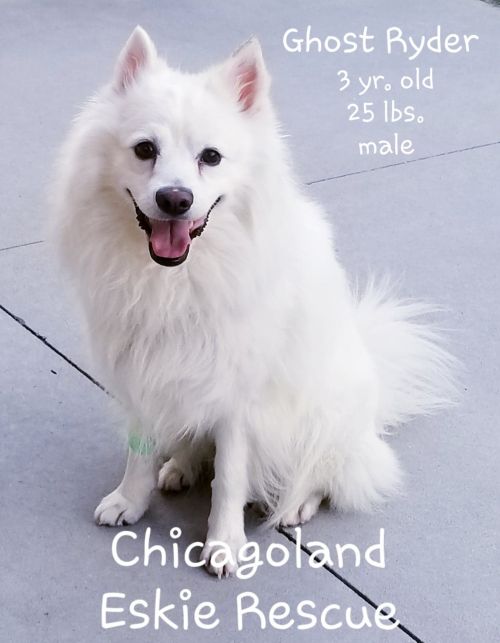 Ghost Ryder
Breed: American Eskimo Dog
Age: Adult
Sex: M
Size: M
Meet Ghost Ryder! We call him Ryder! Ryder is a 3-5 year old, small standard, male American Eskimo Dog. He is currently a little under weight and needs about 5 lbs., otherwise healthy and doing great! Ryder is a very sweet, active, energetic boy, and likes to be busy playing, walking, running, and simply cuddling! Ryder has recently been neutered. He is not yet fully housebroken, and we believe this will be fairly easy now that he is neutered. Ryder seems to like other dogs, and is very interested in meeting new dogs. Right now we feel - NO cats though! Ryder LOVES car rides and walks, but needs a seat belt in the car and training on leash. Ryder is a great candidate for training classes and will benefit from having a new owner who knows and understands the Eskie breed. We strongly recommend a house with fenced yard for Ryder. He will need exercise and an activity or two to keep from getting into mischief. He will probably enjoy a dog park for socialization too. Not known how Ryder will do with children, but we do not recommend very young, small kids. Ryder is very active, gets into things and does not yet have the understanding not to knock down and take something from a younger child. PHOTOS SOON! If you are interested in adopting Ryder, please send an EMAIL to: CERapplications@gmail.com Thank you for looking into adoption!
View this pet on Petfinder.com