Elmhurst, IL 60126
Phone: 312-399-2056
Fax: 630-279-0521
Email: ChicagolandEskieRescue@live.com
Aide in the rescue of any American Eskimo Dog in need.
Find permanent homes for every Eskie in our care. Not to place them with just every person who simply wants an American Eskimo Dog.
Provide breed specific and general education to current and potential owners.
Provide support to any owner for the entire life span of their Eskie.
Protect American Eskimo Dogs from abuse and cruelty.
Function as a responsible rescue organization that will provide safe shelter, health care, socialization and a new life with the proper placement into a respectable forever home.

<< go back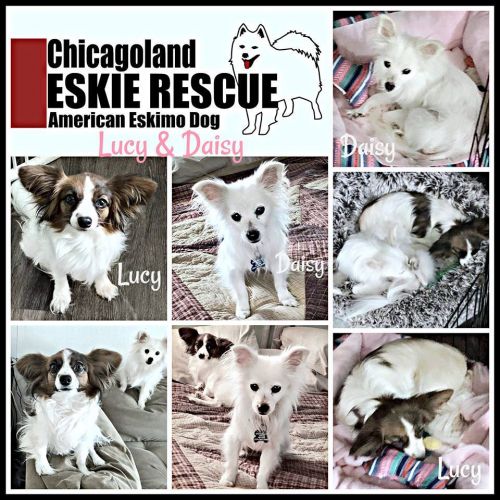 Daisy & Lucy
Breed: American Eskimo Dog
Age: Adult
Sex: F
Size: S
Meet Daisy & Lucy! Daisy is a Toy American Eskimo Dog and will only be adopted with her BFF, a Papillon named Lucy. Daisy and Lucy have been together since they were just babies. Also, Daisy is sight compromised; we don't know exactly what she can see, probably only light & dark, large shapes, etc. Lucy helps Daisy by guiding her, staying by her side, giving her confidence, and Daisy follows Lucy. Daisy came to us under weight, we are hoping to get her up to 8 lbs. before adoption, she is getting there. Daisy also had some fur loss, it's starting to grow back now. Lucy is at a perfect weight, with a nice coat. They are sweet lap dogs for an adult, not pets or playmates for small children. They will do best in a relatively quiet home; we would prefer no young, very playful, in your face kind or jealous doggie siblings. These girls are craving attention, so we are not looking for a home with several other pets. Please also look at Lucy's listing to see more photos! If you are interested in adopting BOTH Daisy and Lucy, please send an email to: CERapplications@gmail.com Again, we will not split these dogs.
View this pet on Petfinder.com