Elmhurst, IL 60126
Phone: 312-399-2056
Fax: 630-279-0521
Email: ChicagolandEskieRescue@live.com
Aide in the rescue of any American Eskimo Dog in need.
Find permanent homes for every Eskie in our care. Not to place them with just every person who simply wants an American Eskimo Dog.
Provide breed specific and general education to current and potential owners.
Provide support to any owner for the entire life span of their Eskie.
Protect American Eskimo Dogs from abuse and cruelty.
Function as a responsible rescue organization that will provide safe shelter, health care, socialization and a new life with the proper placement into a respectable forever home.

<< go back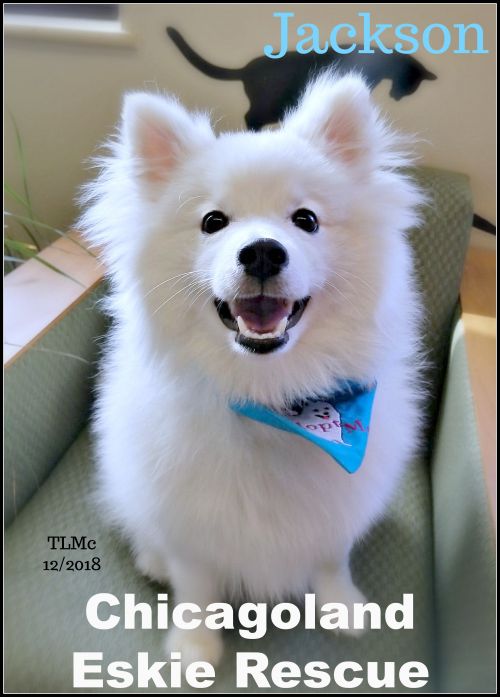 Jackson
Breed: American Eskimo Dog
Age: Baby
Sex: M
Size: S
Jackson is a beautiful, male, mini American Eskimo Dog. He is currently 10 months old and approx. 17 lbs. He is super sweet, but shy, plenty playful, but can be pushy, and has endless energy! Jackson was never properly trained as a younger puppy, so he needs training now; he knows no boundaries. Jackson runs, jumps, spins, and then does it all again. One of his very favorite things to do is zoomies in the house if you let him, or of course, preferably in a securely fenced yard...something Eskies are "famous" for! A good game of chase is really fun too! Jackson is smart, treat motivated, loves toys, enjoys walks, is well behaved for car rides, and a doggie playmate would be perfect. Sadly, Jackson is also intimidated of men and takes a lot of time to warm up. He may do a sort of dance of back and forth, not wanting to get too close to most men, or he may stand back with lots of barking, may growl and even snap before getting to a good & trusting place. Jackson needs an experienced Eskie owner, someone who understands the breed, their suspicious nature, and can teach him respect for his person in a gentle way. This is important because Eskies are sensitive, but also strong-willed. Jackson does not like to be groomed, therefore continued practice introducing baths, brushing, nail clipping needs to go slowly so that he learns that this is not such a terrible thing that is asked of him. The best home for Jackson will be one with another dog, a young and playful dog to help burn some energy, plus he just really enjoys playing with a 4-legged buddy. Jackson will not do well in a home where he is alone all day, waiting for his person or people to come home from work. He is a puppy and cannot be left out at large, roaming the house; he will need containment of a properly sized crate when no one is home. Yes, Jackson will get into things and will chew on things, he is still a puppy. Jackson is not housebroken, so will need several outings each day to learn what is expected of him, if he is locked up all day, 5 days a week, he will not become reliably housebroken. Teenagers will be fine, but no small children, he will knock them over, his play bites can hurt, and he will take food out of a young one's hand. No cats. No tiny dog siblings. No dog siblings that will get annoyed at a puppy that will jump on him or her and pester to play. A securely fenced yard is a huge plus. Professional training will be required for his adoption, then proof back to the rescue to show this has been accomplished. This is important because an untrained Eskie pup will turn into an out of control Eskie adult. Jackson is a great candidate for advanced training, and possibly agility or another dog activity to keep his body & mind busy and out of trouble. Eskie experienced is required, active ready to train applicants only need apply! Jackson is not a cuddly couch potato by any stretch of the imagination! He is a busy boy and he needs guidance to become the best boy he can be! Please send an email to: CERapplications@gmail.com for an adoption application and any questions. Thank you for reading! Appreciated!
View this pet on Petfinder.com