Elmhurst, IL 60126
Phone: 312-399-2056
Fax: 630-279-0521
Email: ChicagolandEskieRescue@live.com
Aide in the rescue of any American Eskimo Dog in need.
Find permanent homes for every Eskie in our care. Not to place them with just every person who simply wants an American Eskimo Dog.
Provide breed specific and general education to current and potential owners.
Provide support to any owner for the entire life span of their Eskie.
Protect American Eskimo Dogs from abuse and cruelty.
Function as a responsible rescue organization that will provide safe shelter, health care, socialization and a new life with the proper placement into a respectable forever home.

<< go back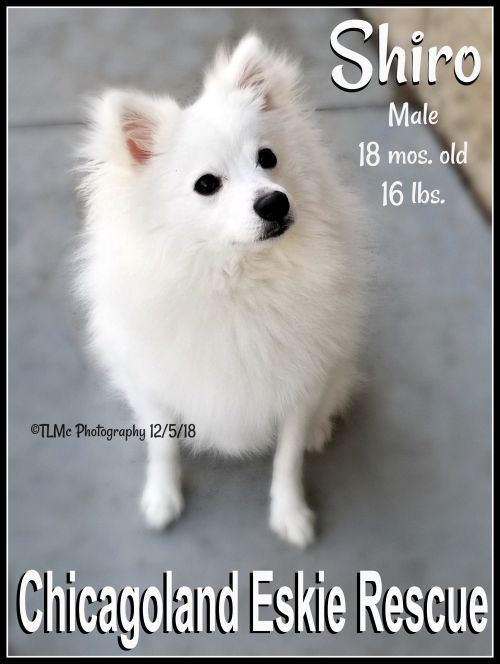 Shiro
Breed: Spitz
Age: Young
Sex: M
Size: S
Shiro is a 16 lb., 2 year old, male Japanese Spitz. Shiro is full of energy and LOVES to RUN! This is NOT an apartment dog despite his size! Shiro is a wannabe "alpha" personality with other dogs; he wants to boss/bully same size and smaller dogs around, he does not play with them, and he turns into a barking, snarling terror with large breed dogs. Shiro does not really play with toys, we are trying to get him interested though. He is obsessed with cats, will bark and chase them. Shiro is stubborn and needs training. Shiro needs an adopter with "challenging dog" experience, and preferably Spitz or American Eskimo Dog experience. Shiro's favorite game to play is "cat and mouse" aka "chase me if you can" aka "you will call me, then I will come to you, but I will dart away, and then we can do it all again...and again! Signing up for training will be required for his adoption. On a positive note, Shiro is a nice size, beyond adorable, smart, and has tons of potential for the right person or adult couple with tons of experience and patience! PLEASE NOTE: NO CATS, NO DOGS, NO CHILDREN, NO APARTMENTS, NO CONDOS. TRAINING IS REQUIRED! If you are interested in adopting Shiro, please send an EMAIL to: CERapplications@gmail.com PLEASE NOTE, WE DO NOT HAVE A FACILITY! OUR RESCUE DOGS GO TO OUR VET, THEN FOSTER CARE HOMES! THANK YOU FOR LOOKING!
View this pet on Petfinder.com