Elmhurst, IL 60126
Phone: 312-399-2056
Fax: 630-279-0521
Email: ChicagolandEskieRescue@live.com
Aide in the rescue of any American Eskimo Dog in need.
Find permanent homes for every Eskie in our care. Not to place them with just every person who simply wants an American Eskimo Dog.
Provide breed specific and general education to current and potential owners.
Provide support to any owner for the entire life span of their Eskie.
Protect American Eskimo Dogs from abuse and cruelty.
Function as a responsible rescue organization that will provide safe shelter, health care, socialization and a new life with the proper placement into a respectable forever home.

<< go back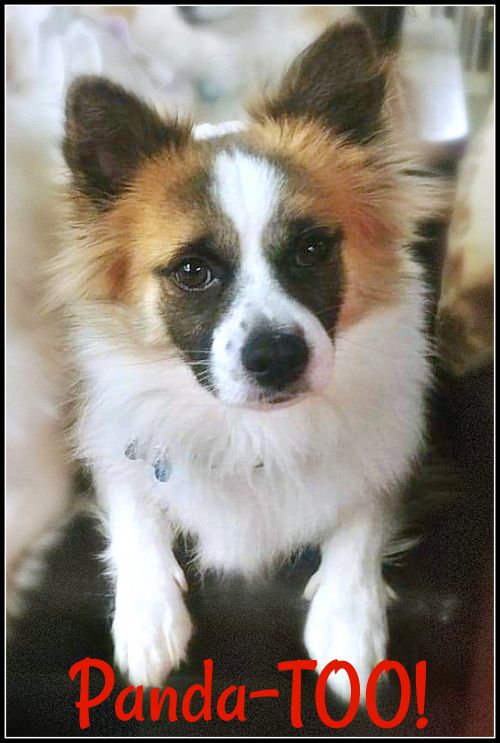 Panda-Too!
Breed: Corgi
Age: Adult
Sex: M
Size: S
Say HELLO to Panda-TOO! Panda is a male 3-5 year old Corgi-Pom mix and ready for his FOREVER home! Panda likes to play with other dogs, loves toys, will burn energy to run in a securely fenced yard, and also loves belly rubs & cuddle time. Panda will make a wonderful family pet with kids over 10 years old. Panda loves to go on walks and car rides. Panda would be fun to take to an obedience class too! Training classes are a great way to bond with your new dog. Panda is doing fantastic in his foster home; he sleeps in a playpen at night. He will also use a crate. Panda is almost housebroken, but there will be a new learning curve when moving into a new home. Panda is being fostered in the greater Chicagoland area, you will need to complete and application and make an appointment to visit with him, If you are interested in meeting Panda, please send an EMAIL to: CERapplications@gmail.com PLEASE NOTE, WE DO NOT HAVE A FACILITY! OUR RESCUE DOGS GO TO OUR VET, THEN FOSTER CARE HOMES! THANK YOU FOR LOOKING!
View this pet on Petfinder.com