Elmhurst, IL 60126
Phone: 312-399-2056
Fax: 630-279-0521
Email: ChicagolandEskieRescue@live.com
Aide in the rescue of any American Eskimo Dog in need.
Find permanent homes for every Eskie in our care. Not to place them with just every person who simply wants an American Eskimo Dog.
Provide breed specific and general education to current and potential owners.
Provide support to any owner for the entire life span of their Eskie.
Protect American Eskimo Dogs from abuse and cruelty.
Function as a responsible rescue organization that will provide safe shelter, health care, socialization and a new life with the proper placement into a respectable forever home.

<< go back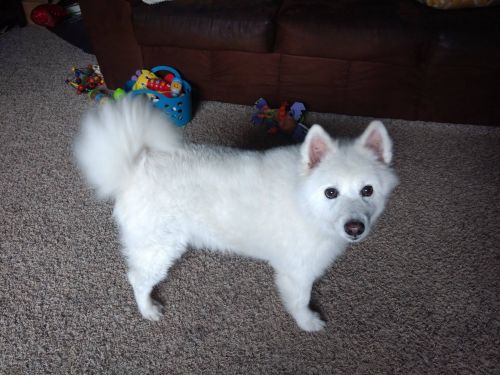 Milo
Breed: American Eskimo Dog
Age: Adult
Sex: M
Size: M
Milo is 8 years young male American Eskimo Dog. He would do best in a home that allows him to do sow introductions. Once comfortable with you Milo is amazing. Other dogs are fine but must be more reserved and not in Milo's face. Middle age children on up are preferred. To meet this amazing guy please email CERApplications@gmail.com for an application. Thanks!!
View this pet on Petfinder.com