Elmhurst, IL 60126
Phone: 312-399-2056
Fax: 630-279-0521
Email: ChicagolandEskieRescue@live.com
Aide in the rescue of any American Eskimo Dog in need.
Find permanent homes for every Eskie in our care. Not to place them with just every person who simply wants an American Eskimo Dog.
Provide breed specific and general education to current and potential owners.
Provide support to any owner for the entire life span of their Eskie.
Protect American Eskimo Dogs from abuse and cruelty.
Function as a responsible rescue organization that will provide safe shelter, health care, socialization and a new life with the proper placement into a respectable forever home.

<< go back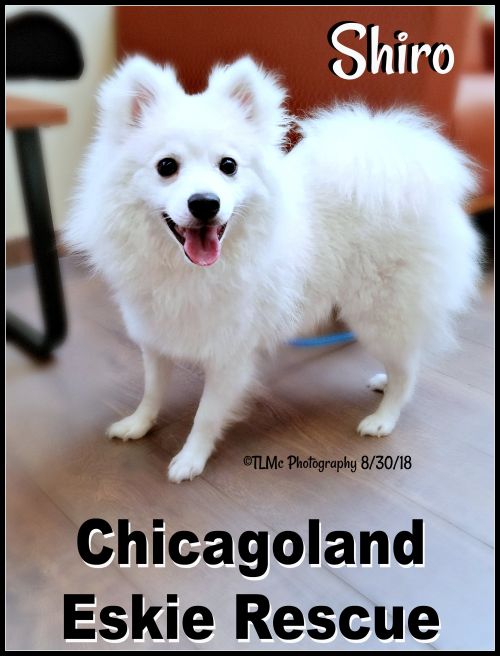 Shiro
Breed: American Eskimo Dog
Age: Young
Sex: M
Size: S
Shiro is a very handsome 1 year old male Japanese Spitz. Shiro is energetic and playful, confident and a little bit bossy! He would enjoy having a family with or without another dog, but no cats, and older kids will be fine. Shiro will walk on leash fine, but would also love a fenced yard for zooomies! He will use a crate and does well for car rides....as long as you are not sitting at a red light for too long with full view of the guy in the car next to you! Shiro is not an apartment dog, for he is quite the character and likes to voice his opinion, but your neighbors with a shared wall might not be too excited about hearing it. Shiro is a great candidate for training classes, continued training, and possibly even agility; he is a smart boy and will need to have an activity to keep him engaged and socialized. If you are interested in adopting Shiro, please send an EMAIL to: CERApplications@gmail.com for an application. THANKS!
View this pet on Petfinder.com