Elmhurst, IL 60126
Phone: 312-399-2056
Fax: 630-279-0521
Email: ChicagolandEskieRescue@live.com
Aide in the rescue of any American Eskimo Dog in need.
Find permanent homes for every Eskie in our care. Not to place them with just every person who simply wants an American Eskimo Dog.
Provide breed specific and general education to current and potential owners.
Provide support to any owner for the entire life span of their Eskie.
Protect American Eskimo Dogs from abuse and cruelty.
Function as a responsible rescue organization that will provide safe shelter, health care, socialization and a new life with the proper placement into a respectable forever home.

<< go back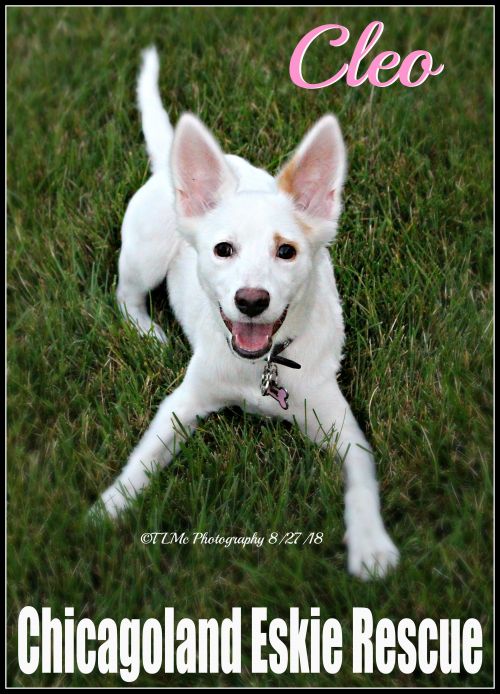 Cleo
Breed: German Shepherd Dog
Age: Baby
Sex: F
Size: M
This is Chicagoland Eskie Rescue's Cleo! Guess the breed! ? I am calling her an American Eskimo Dog - White Shepherd mix; she is now over 15 lbs., and just past her 4 month old mark. I guess she will be a 40 lb. adult dog, maybe a little more! CER got a call to help with an owner surrender in Chicago....we were told she was an American Eskimo Dog puppy, possibly an Eskie mix. Cleo is what I found when I picked her up!! ? There is absolutely nothing Spitz-like about her tail, very large ears in the likeness of a Shepherd pup, still needs to grow into her paws, her tail reminds me of a Pointer or Dalmatian, with non-stop wagging or whipping back and forth, and she has that "large breed puppy clumsiness" going on right now. LOL! Mostly, she is super sweet, so cute, and incredibly fun! TOYS! She loves to have a basket of toys to keep her busy! Cleo is loving, playful and learning new things every day. She will master the stair case in no time! We are working on housebreaking, she is catching on quickly. She loves walks, but is all over the place, so she needs some training and taming in that department! Cleo is crate trained, eats well, and sleeps solid at night. She is treat motivated too. We are working on simple commands, sit, down, wait, come. She has beautiful teeth and gives kisses. ? Cleo gets along with all other dogs, is cat curious so that may be an issue, and would be a wonderful family dog. Best of all Cleo is not a big barker! A fenced yard would be perfect, or at least a big bonus! This girl LOVES to run and then run some more! Her back feet are always trying to out run her front feet! LOL! If you would like to apply for Cleo's adoption, please send an EMAIL to me at: CERbuddies@live.com Oh, that sound of thump, thump, thump, when her wagging tail whacks against something!!! She is a joy!
View this pet on Petfinder.com