Elmhurst, IL 60126
Phone: 312-399-2056
Fax: 630-279-0521
Email: ChicagolandEskieRescue@live.com
Aide in the rescue of any American Eskimo Dog in need.
Find permanent homes for every Eskie in our care. Not to place them with just every person who simply wants an American Eskimo Dog.
Provide breed specific and general education to current and potential owners.
Provide support to any owner for the entire life span of their Eskie.
Protect American Eskimo Dogs from abuse and cruelty.
Function as a responsible rescue organization that will provide safe shelter, health care, socialization and a new life with the proper placement into a respectable forever home.

<< go back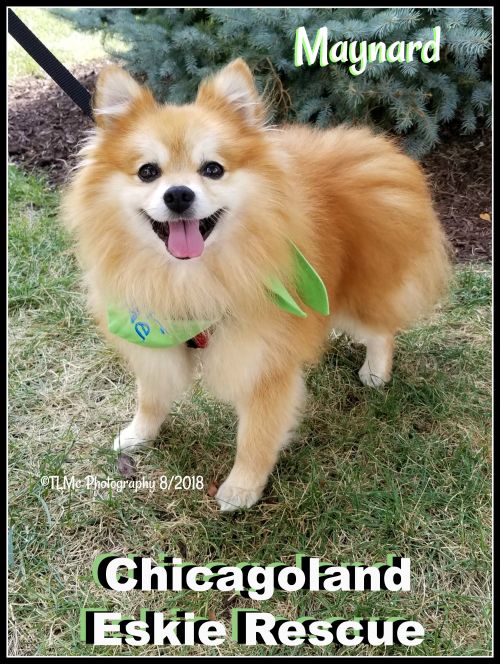 Maynard
Breed: Pomeranian
Age: Adult
Sex: M
Size: S
Meet Maynard! Maynard is an adorable 5 year old, male, orange Pomeranian. Maynard came to us thru the release of dogs in a breeding/hoarding home. Maynard is very sweet, and he loves to cuddle. He has come a long way since his rescue, getting more confident every day, he even initiated play with another dog in his foster home. Maynard is motivated by treats, eats well, and sleeps well in a doggie play pen. He is not yet housebroken, but he is making progress, and we are sure for those who are familiar with Pomeranians totally understand that these little boys can be a bit challenging in this department. Maynard has been neutered, completely vaccinated, is heartworm negative, and he had a much needed dental, unfortunately, losing all of his teeth. He is happy, healthy and much more comfortable now as a result! Think of it this way, his adopter will never need to worry about another dental cleaning! If you would like to apply for Maynard's adoption, please send an EMAIL to: CERbuddies@live.com for an application. Thank you!
View this pet on Petfinder.com