Elmhurst, IL 60126
Phone: 312-399-2056
Fax: 630-279-0521
Email: ChicagolandEskieRescue@live.com
Aide in the rescue of any American Eskimo Dog in need.
Find permanent homes for every Eskie in our care. Not to place them with just every person who simply wants an American Eskimo Dog.
Provide breed specific and general education to current and potential owners.
Provide support to any owner for the entire life span of their Eskie.
Protect American Eskimo Dogs from abuse and cruelty.
Function as a responsible rescue organization that will provide safe shelter, health care, socialization and a new life with the proper placement into a respectable forever home.

<< go back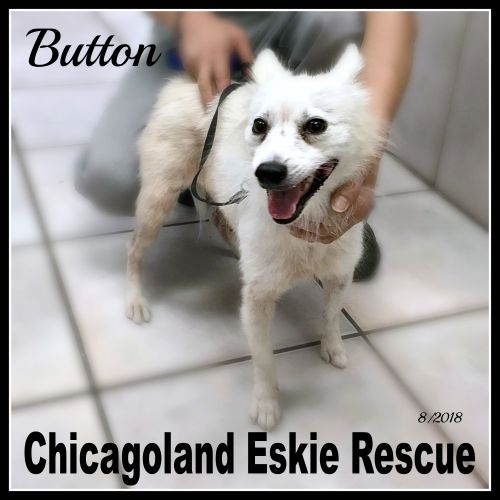 Button
Breed: American Eskimo Dog
Age: Adult
Sex: F
Size: S
Button is a very sweet, slightly shy Mini American Eskimo Dog. She is approx. 3 years old and about 15 lbs. Her coat is scanty right now, she recently said good-bye to a litter of puppies and it is common for the female dog to drop their coat. We are confident that with the TLC she deserves her coat, as well as personality, will blossom. Button came into our rescue with one 2-3 month old pup; the other pups were gone before we found out that she needed rescue. Please, please do not ask on this listing about her pup, this listing is for Button, the pup will be listed separately. It seems very likely that Button has had previous litters, but we do not have those details. We do not know Button's background with children or cats, she is good with other dogs as long as they are not too pushy. Button craves attention; the best home for Button will be with someone who is home, works from home, or possibly with some who can be home for lunch during the day so she is not alone for a long work day. Button needs reassurance and confidence building, she is full of love and will make a great companion dog! If you are interested in Button, please send an email to: CERapplications@gmail.com Photos soon!
View this pet on Petfinder.com