Elmhurst, IL 60126
Phone: 312-399-2056
Fax: 630-279-0521
Email: ChicagolandEskieRescue@live.com
Aide in the rescue of any American Eskimo Dog in need.
Find permanent homes for every Eskie in our care. Not to place them with just every person who simply wants an American Eskimo Dog.
Provide breed specific and general education to current and potential owners.
Provide support to any owner for the entire life span of their Eskie.
Protect American Eskimo Dogs from abuse and cruelty.
Function as a responsible rescue organization that will provide safe shelter, health care, socialization and a new life with the proper placement into a respectable forever home.

<< go back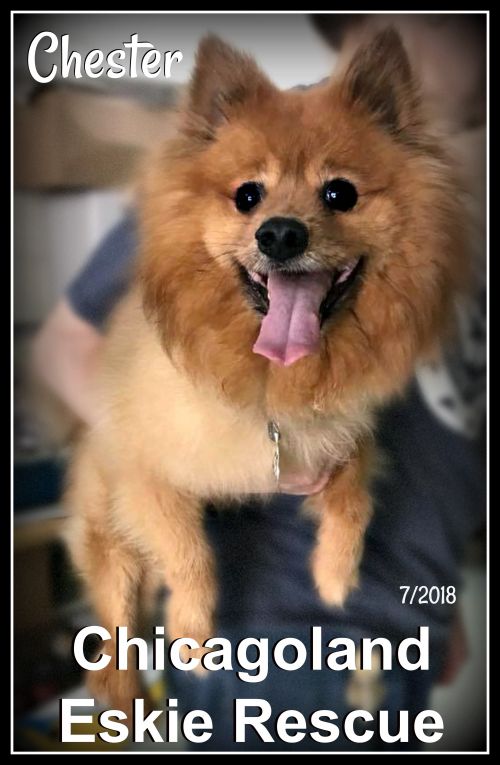 Chester
Breed: Pomeranian
Age: Adult
Sex: M
Size: S
Chester aka Mr. Chesterfield is a larger male Pomeranian with a beautiful red colored coat. Chester is approx. 8-10 years old and weighs about 14-15 lbs. He is super sweet, very loving and rather chill most of the time. Chester can also be a little stubborn, what a surprise for a Pomeranian, well not really! At times he likes his own space, doesn't want anyone right in his face, and does not fair well if he is accidentally stepped on! No kidding, right! Well, it just would not be right if we didn't tell you that Chester will lunge and snap if his tail gets under your foot! So no young children! Chester walks nicely on leash and enjoys being with his main person/people. A fairly quiet home will be best, he does not like a lot of chaos. He is a really good boy and will make a wonderful companion to a lucky someone! Other dogs are fine as long as the other dog is not an in your face kind of dog. Chester does not want to play with another dog, does not want to be jumped on and pushed to play. He does well with co-existing with another dog. Chester is a bit too spirited with cats! If you are interested in adopting Chester, please send an email to: CERbuddies@live.com Thanks!
View this pet on Petfinder.com