Elmhurst, IL 60126
Phone: 312-399-2056
Fax: 630-279-0521
Email: ChicagolandEskieRescue@live.com
Aide in the rescue of any American Eskimo Dog in need.
Find permanent homes for every Eskie in our care. Not to place them with just every person who simply wants an American Eskimo Dog.
Provide breed specific and general education to current and potential owners.
Provide support to any owner for the entire life span of their Eskie.
Protect American Eskimo Dogs from abuse and cruelty.
Function as a responsible rescue organization that will provide safe shelter, health care, socialization and a new life with the proper placement into a respectable forever home.

<< go back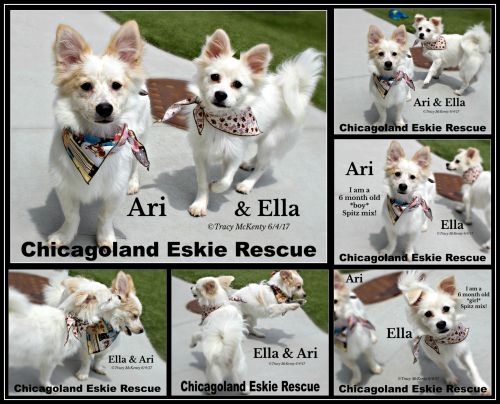 Ella & Ari
Breed: Spitz
Age: Baby
Sex: F
Size: S
Meet Ari (male) and Ella (female) ...they are litter-mates, playmates, and just good friends! We are looking for a couple or family to adopt these two adorable 8 month old puppies together. Ari & Ella flew to Chicago all the way from South Korea to start their new lives. They love toys, share well between each other, eat side by side, and would love a fenced yard, but not mandatory. They will sleep together or part, are crate trained, almost housebroken, doing well on leash together, and ride well in the car as long they don't have full bellies. Please send an email to: CERApplications@gmail.com if you are interested in bringing these two home! Thank you!
View this pet on Petfinder.com