Elmhurst, IL 60126
Phone: 312-399-2056
Fax: 630-279-0521
Email: ChicagolandEskieRescue@live.com
Aide in the rescue of any American Eskimo Dog in need.
Find permanent homes for every Eskie in our care. Not to place them with just every person who simply wants an American Eskimo Dog.
Provide breed specific and general education to current and potential owners.
Provide support to any owner for the entire life span of their Eskie.
Protect American Eskimo Dogs from abuse and cruelty.
Function as a responsible rescue organization that will provide safe shelter, health care, socialization and a new life with the proper placement into a respectable forever home.

<< go back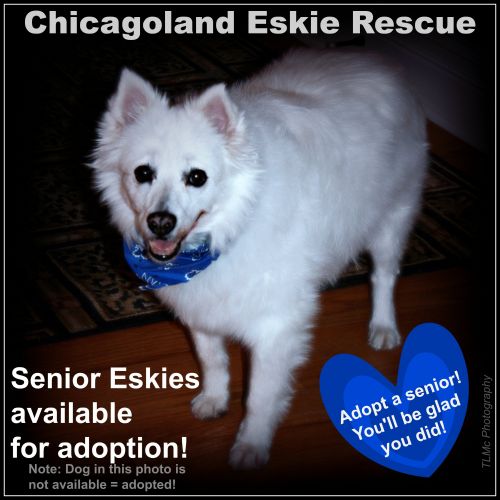 Male & female Eskies!
Breed: American Eskimo Dog
Age: Senior
Sex: M
Size: M
Chicagoland Eskie Rescue periodically has older or senior Eskies available for adoption! Don't pass up an older dog because of their age, often they are housebroken, calm, quiet, very cooperative, need limited exercise and make great companions. We try very hard to address any possible health issues prior to adoption, so there are no immediate surprises. All of our dogs adopt out with records of the vet care we have provided. All of our dogs will be spayed/neutered, vaccinated, microchipped, heartworm tested and HW prevention started, tested and/or wormed when needed, checked for fleas & flea/tick prevention started, fully groomed, and given a new collar and leash set with ID tag. Senior adoptions fees apply to dogs over 10 years. More PHOTOS SOON! If you are interested in a senior Eskie please email to:  chicagolandeskierescue@live.com Thank you for considering a senior dog for adoption, it saves lives!!!   
View this pet on Petfinder.com